Products
POCANYWHERE is proud to present you with several portable terminals which are part of its service offer.
Not only will you have access to a wide range of portable and mobile terminals, but you will also be able to use a sophisticated GPS distribution and tracking system. Of course, the platform also offers a management system for portable terminals and applications for our resellers; which allows you to determine groups, private calls and other system options remotely.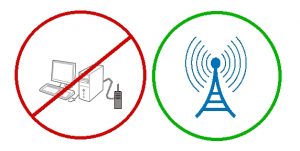 You will no longer have to program your terminals using a PC and a cable. Everything will be done via cellular waves and instantly.
Advantages
Whether you are looking for an instant push to talk solution; POCANYWHERE offers you the choice and the benefits linked to LTE cellular networks from the most efficient providers. Whether it is Rogers, Telus or Bell Canada and this covering 99% of the territory of Canada and Quebec.
Unlike private DMR networks, push to talk cellular systems cover a larger area without exorbitant costs. No need to install expensive infrastructure.
The answer is the POCANYWHERE push to talk over cellular system.
Walky-talky radios, tablets and smartphones, provide communications at the touch of a PTT button; nothing simpler and faster.
You will only use your portable DMR radios for short distances, although the Wi-Fi option of push to talk radios can replace them inside multiple buildings. Our Android POCANYWHERE ptt app, gives you your money's worth. It's easy to use, it's effective.
A POCANYWHERE communication lasts on average 15 seconds compared to a cellular communication 90 seconds and this, to pass the same message; you will therefore be more efficient in your calls. In addition, smartphones undermine your efficiency because employees use them for Facebook or other applications unrelated to their work, which leads to additional loss of time. Finally with our push to talk radios you will eliminate the possibility of tickets as with cell phones, because they are considered walky-talky in the eyes of transport law.
To reach us on our Facebook page, it's here